Pelletizing is the process of making waste materials into solid fuel. The objects are used for burning purposes. Wood Pellet is one of the most commonly used pelletizing materials. Wood Pellet can be made from any type of Agro-Forestry waste: Groundnut-shell • Sugarcane Biogases • Caster Shells/Stalk • Saw dust • Coffee Husk • Paddy Straw • Sunflower Stalk • Cotton Stalks • Tobacco waste • Mustard Stalk • Jute waste • Bamboo Dust • Tea waste • Wheat Straw • Palm husk • Soybeans husk • Coir Pitch Barks/Straws • Rice Husks • Forestry wastes • Wood Chips and many other Agro wastes. But the Moisture Content Should be Less than 12%, grain size is below 5*5mm.

Crushing Process:
When the thickness of raw wood material is >10mm, and >50 * 50mm(L * W), we need use the Wood Chipper to chip them into small pieces, then crush the small pieces into wood powder with diameter less 3mm by Hammer Mill (Crusher).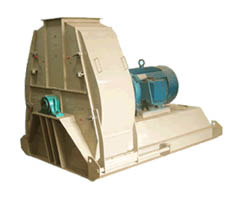 Hammer mill: To crush the raw material to small size, the better size is 3mm..
Each hammer mill is provided with:
- Screen
- A set of hammers (40 pic)
- Elastic union piece
- Anti-vibration supports
Fan: To supply the energy for air flow.
Wind pipe: To transport the crushed material to Cyclone.

Dust collector (Cyclone): To collect the dust in processing.
Here, Cyclone has two functions, one is collect the dust; one is transport the materials to drier.