RSL-I series stove may be utilized for burning wood pieces (less than 50 mm), wood pellets and shells, and is equipped with an automatic stoker. Clean, hot smoke and gas is obtained through two-grade burning and two-time dust filtering. The stove is widely used in the drying of inedible materiels such as sawdust, seeds, feedstuff, chicken manure, dregs, and foundry sand.

Stove structure:auto fuel elevator, auto fuel inlet, stove body and electrical cabinet.

Working elements:

a.Auto fuel elevator: is in front of stove body and consists of a fuel bucket, guide rail frame, support plate, elevating machine and gear box. It elevates the fuel bucket automatically and dumps the fuel into fuel box.

b.Auto fuel feeding machine: drives fuel into the stove body. There are four separate air chambers under the fire grate. Different fuels can be burned by adjusting the air volume of each chamber through handwheel. The machine has adopted soot doors.

c.Stove body: consists of a fire grate assembly, primary chamber and secondary chamber. The inside of fire chamber is composed of refractory concrete and has a fuel flashboard to adjust the thickness of fuel bed. On both the left side and right side of the primary chamber there are fire doors for the ignition and observation of burning circs. The stove body also has a moving coking fuel bed for thorough combustion. The secondary chamber has a fire bar, ash chute and inspection hole. The double grade cyclone dust filter in the secondary chamber acts to purify the smoke and gas.


d.Electrical cabinet: the main electrical components are from France's Schneider. The main components are the power switch, three-grade protection device, voltage meter, ampere meter, temperature digital control, overheat and overload protection device, time relay, thermal relay, several controls for the fuel intake, as well as an elevator, fan and air lead. A diagram of the electrical system is below: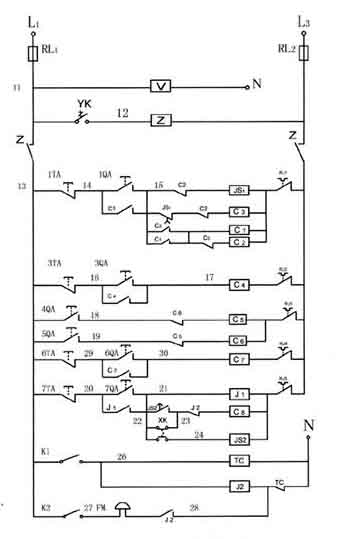 Temperature adjustment of output gas:
Momentary adjustment is carried out by a rotating air cover at the exit of secondary chamber. Stable adjustment is needed to modify fuel intake and blast volume. Shorten the time interval of fuel intake or increase the volume and the temperature rises, or vice versa. The feeding interval can be set to between 0 and 5 minutes. The temperature of the expelled gas can be between 800°C ± 20°C.The stove is under micro negative pressure when running normally. The surface temperature will not exceed 30°C above the ambient temperature.