Wood Pellet Plant --- Ring Die
The GC-MZLH series of wood pellet plant is designed for large scale pelletizing process. It includes a feeder system, conditioner, gear box, ring die pellet mill and lubrication system. Dried material is transferred to the conditioner by a screw feeder. Moisture content is the most important consideration for the pelletization of quality pellets. For this, the conditioner plays a key role in softening raw materials by utilizing water or steam. After softening, the raw material is sent by a feeder to the pelleting chamber. By spinning rollers in the chamber force the material through the holes of the die, thus pellets are formed. After pelletizing, the length of the pellet can be cut according to different user's request.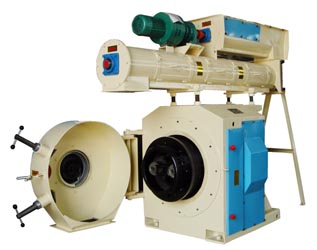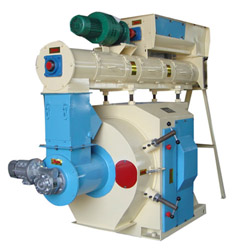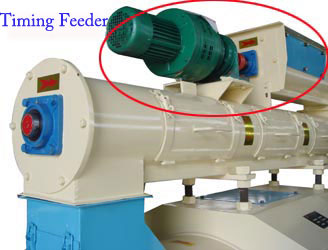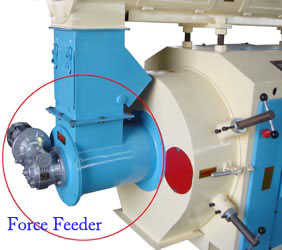 The capacity ranges from 200 kg/s to 3 tons per hour. It is widely used for processing wood, straw and other biomass materials. It features in high performance, low cost, long life and easy maintenance. The key parts are made of alloy steel. And the die is made of stainless steel.
| | | | | | | |
| --- | --- | --- | --- | --- | --- | --- |
| Model | Main motor power(kw) | Capacity(t/h) | Feeding motor power(kw) | Conditioner motor power(kw) | Diameter of die (mm) | Pellet diameter (mm) |
| KMPM 25 | 7.5*2 | 0.2-0.3 | 0.75+0.55 | 2.2 | 250 | 4-8 |
| KMPM 32 | 37 | 0.3-0.6 | 0.75+0.55 | 2.2 | 320 | 4-8 |
| KMPM 35 | 55 | 0.5-0.8 | 0.75+0.75 | 2.2 | 350 | 4-8 |
| KMPM 40 | 75 | 0.7-1.1 | 1.5+0.75 | 2.2 | 400 | 4-8 |
| KMPM 42 | 110 | 1.0-1.5 | 1.5+0.75 | 5.5 | 420 | 4-8 |
| KMPM 508 | 132/160 | 2.0-3.0 | 1.5+0.75 | 7.5 | 508 | 4-8 |