Complete biomass pellet plant is the process of converting biomass wastes into biomass pellets energy, which is mainly used for commerical purpose. The biomass pellets are utilized for burning, which meet not families' heating and cooking but provide fuel for industry.
Flow Chart of Complete Biomass Pellet Plant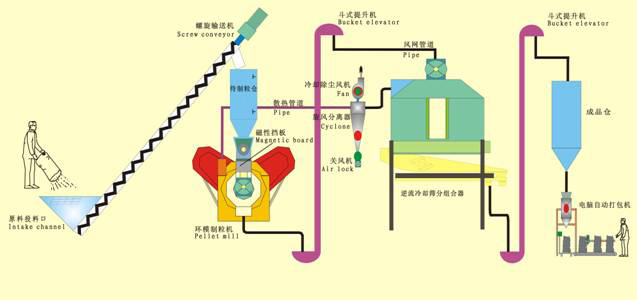 1. Raw material:
Biomass pellet fuel is usually made from sawdust, corn stover, wheat straw, leaf, rice husk and other widely available biomass features.
2. Process of the biomass pellet production:
In complete biomass pellet production line, it usually contains three main procedures: raw material pretreatment like crushed and dried; pretreated materials are compressed into various size of biomass pellets according to customers' requirements in pelletizing system; after cooling, biomass pellets are packed with bagging machine.
Main Pellet Mill Equipments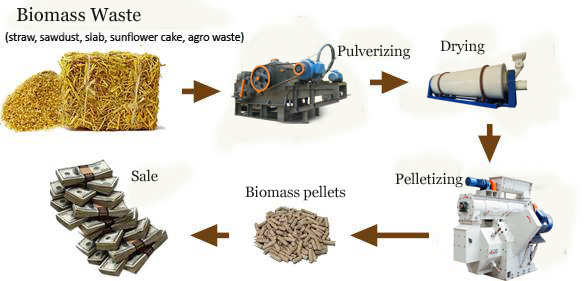 Detailed for complete biomass pellet production line
Pulverizing system
When the dimensions of the biomass materials are larger than 50*50*10mm, a chipper must be used to chip the biomass materials into smaller pieces. A hammer mill is then able to grind the material into segments less than 3mm in length.
Drying System
The appropriate moisture contern for pelletizing is about 13%-15%. Our rotary dryer consists of a stove and a main dryer component which can cut down the moisture content from 60%-10%. Our stove is fueled by coal which saves the consumption of electricity.
Pelletizing system
The pellet mill provided by our company can make pellets continuously even in most adverse conditions. The key features of our design are high quality, durability and low maintenance costs. Considering its functionality, our primary components adopt alloyed steel.
Cooling and Bagging
After pelletizing process, the temperature of biomass pellets is very high about 80℃. The pellets' moisture content is typically about 15%. With the help of cooler, biomass pellets' moisture can be reduced to 3-4% simultaneously decreasing the temperature. In order to biomass pellets stroe, the bagging machine is necessary for pellets bagging and transporting.