Wood Pellet Mill Plant
Nowadays, with increasingly serious energy shortage and global warming, there is a hot topic for all the human beings—that is seeking green and renewable energy resources. For daily life, maybe you can start changing the world with using wood pellets.
The Process of Wood Wastes to Pellets

Wood pellet mill plant refers to the professional machine used for large scale pellets production, which is also ring die pellet mill. When it works, rollers and die will run to produce a force to make material be pressed to small columned granules. It is much higher productive than flat die pellet mill which is suitable for family using. And it can produce a great economic benefit for you.
Flow Chart of Wood Pellet Mill Plant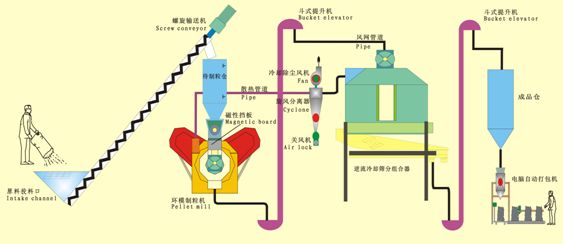 Wood pellet mill plant we offer is developed with advanced technology and unique patent. Main parts of this machine are specially made for improving the durability and endurance. This machine can work continuously and stably for you to meet your demand easily. If you want to be engaged in wood pellet production, this machine can be your ideal choice. We will do out best to provide you excellent wood pellet mill plant and perfect service both. Welcome to contact us.
Advantages of Wood Pellets
There are many advantages you can get from making wood pellets. Firstly, wood pellets are easy and cheap to be got. They are made from common organic matters, like forestry and agricultural scraps, household garbage, animal manure, etc. Each of the raw materials is available for all human being to collect with low cost. Secondly, it is an efficient fuel for many applications: family heating, cooking, industrial fuel, generating electricity, and so on. Thirdly, maybe also the most important point is, this fuel is green and sustainable compared with other fuels. It won't produce gas that may pollute the air, but also produce little smoke and ash which can save much labor for you. If you start the career of making wood pellets, you can make a lot of benefits from it.
Wood Pellets Advantages: