Wood pellet production which is often referred to the large scale wood pellets production for commercial or industrial purposes, is utilized to produce wood pellets fuel or energy from raw material like wood chips, sawdust, wood shavings, hard wood or soft wood wastes. Wood pellet plant vary in from 3 kilowatt to 375 kilowatt or much larger. Production capacity for wood pellets may range from 500kg per hour to 8tons per hour for the pellet production. Any wood raw materials offered with resonable density and adjusted moisture is going to be compressed wood pellets through material pretreatment.
Raw Materials Pretreatment Process

Wood pellet production, usually contains 1units or more conditioning units installed according to various pellets capacity. During the installation, liquids might be added to enhance pellets capability. While the water and lubrication oil are otten added inside the type of steam resulting in firmer pellets. In wood pellet production, the pelletizing system usually refers to the ring die pellet machine. Through the pretreated wood materials fall into the center of the pelleting processing. Within the ring die pellet mill, the die is the form, and the rollers force the materials through the die coming out of the inside of the ring to outside. Outer knives cut the pellets to length necessary. The knives can be adjusted to determine the pellets' length.
The Whole Wood Pellet Production Line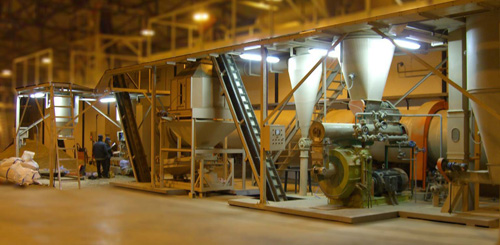 The wood pellets are transformed from the pelletizing system into a cooler so as to cut down the high temperature of pellets which is generated in the course of the processing procedure. The moisture content of the pellets also is required to be decreased for durability during storage and shipping procedures. Later wood pellets are stored in silo or bag for bulk shipping. The wood pellets are utilized in energy producing systems including industrial boiler, home pellet stove for heating or cooking and pellets barbeques.
From Raw Materials to Final Products-Wood Pellets